About Hanks Place
Both Robyn and Darrin Day grew up in Southland farming families. When Hanks Place in Lumsden came up for sale in 2003, they felt the business complemented their own experience as farm owners and decided to buy it.
Robyn is in charge of the day-to-day running of Hanks Place, and has ushered in changes that have resulted in steady growth for the company. Many new products have been introduced and as a result, there is a wider selection of products to choose from.
Being locally owned and operated means knowing your customers, knowing what they need, and having the knowledge to help them find the right products. That's what Hanks Place is all about.
Robyn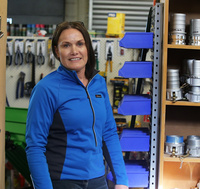 Robyn is shop manager and has been a sales person at Hanks Place since 2003. Her focus and priority at Hanks Place is to have excellent customer service, a fantastic product range and (of course) fantastic product knowledge.